UNDERSTANDING CHILDREN'S ALLERGIES
WHAT IS A CHILDREN'S ALLERGY?
A condition of unusual sensitivity of a child to one or more substances, whether inhaled, swallowed, or come in contact with the skin. In sensitive individuals, contact with these substances can produce a variety of symptoms in varying degrees ranging from slight itching to swelling of the tissues and organs, mild runny nose to severe asthmatic attacks, general tiredness or fatigue to severe anaphylaxis. The ingested, inhaled or contacted allergen is capable of alerting the immune system of the body. The frightened and confused immune system then commands the white blood cells to produce immunoglobulins type E (IgE) to stimulate the release of the chemical defense forces like histamines from the mast cells. These chemical mediators are released as part of body's immune response to the foreign substances and these chemicals produce abnormal physical, physiological symptoms in the sensitive person.
WHAT CAUSES ALLERGIES?
Heredity
Toxins
Low Immune System
Radiation
Emotional
Factors
POSSIBLE BEFORE BIRTH ALLERGY SYMPTOMS
Extreme Overactivity / Wiggling Or Moving Constantly In The Uterus
Vigorous Kicking
Mother's Ribs May Be Bruised
WHAT ARE SOME COMMON ALLERGENS?
Inhalants: pollens, flowers, perfumes, chemicals, dust, etc.
Ingestants: food, drinks, vitamins, drugs, additives, etc.
Contactants: fabrics, cosmetics, furniture, bed, toys, etc.
Injectants: insect bites, injectable drugs, vaccinations
Infectants: bacteria, virus, contact with infected persons
Physical Agents: heat, cold, humidity, dryness, wind, etc.
Genetic Agents: inherited illnesses or tendency from parents, grandparents and ancestors
Molds and Fungi: yeast, candida, molds, parasites, etc.
Emotional Factors: painful memories of various incidents from past to present
OTHER SYMPTOMS:
Asthma, Bronchitis
Bladder Problems
Red Cheeks/Earlobes
Dark Eye Circles or Bags
Sensitivity to Sunlight
Leg Aches or Calves and Feet May Burn
A "Spaced-Out" Look
Dislike Being Touched or Cuddled
Excessive Clinging
Coughing or Wheezing
Depression
Expressionless
Excessive Fatigue
Desire for a Craved Food
Intestinal Complaints
Recurrent Ear, Chest, or Sinus Infections
Gums and Cheeks – ulcers or open sores on gums and inner cheeks
Halitosis
Headaches
Hyperactivity
Joint Stiffness
Lips – rash, dry or swollen
Nose Rubbing, Wiggling, or Picking
Runny or Stuffy Nose
Temper Tantrums or Whining
Aggression – biting, hitting, kicking
Dr. Jekyll/ Mr. Hyde Personality
Refusal to Stay Dressed
Speech – Stuttering or unclear
Hives, Eczema, or Skin Rashes
Sleep Problems -nightmares
Excessive Thirst
Autism
Behavior Problems
WILL CHILDREN GROW OUT OF THESE ALLERGIES?
The majority of children will continue to be allergic. Sometimes, the allergy will appear in another part of the body or manifest itself as a different symptom.
When children in infancy seem somewhat better around the age of one, a new and somewhat different medical or emotional problem will become evident. It is not unusual for this allergy to appear well tolerated when instead manifests itself as tantrums what is called the terrible two's or three's. Often later in life, these allergies may change to other complaints such as headaches, muscle or joint aches, then intestinal complaints.
ALLERGY ELIMINATION with NAET
NAET stands for Nambudripad's Allergy Elimination Technique. It's a natural, drugless, painless, non-invasive method that can be used safely from a one-day-old infant to anyone of advanced age. Allergens are cleared (treated) one at a time with this technique, and best results are obtained if allergens are cleared in a specific sequence. NAET is a powerful alternative in treating allergies and in offering a long-term success from allergies.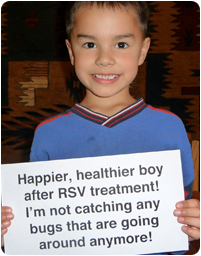 Treating

Sinusitis
Headaches
Backaches
Skin Conditions
Chemical Sensitivities
PMS/Hormones
Chronic Fatigue
Fibromyalgia
Candida & More