WEBSITE DISCLAIMER
All information contained on the drmarilynchernoff.com website, known as "content" is intended for informational and educational purposes. The content is not intended nor suited to be a replacement or substitute for professional medical treatment or for professional medical advice.
Please seek the advice of your medical professional with respect to questions or a medical condition. As a recipient of content from this website, you are not establishing a doctor/patient relationship with any medical professional. There is no replacement for personal medical treatment and advice from your medical professional or physician.
Medical Disclaimer
The content is provided for general informational purposes only. The content is not intended as, nor should it be considered a substitute for professional medical advice. Do not use this content information for diagnosing or treating any medical or health condition. If you suspect or have a medical problem, promptly contact your medical professional or physician.
Disclaimer of Warranty
The content and this website, drmarilynchernoff.com, makes no warranties of any kind regarding, but not limited to, the accuracy, completeness, timeliness or reliability of the content.
Limitation of Liability
You agree to hold harmless Dr. Marilyn Chernoff, The Healing Center, its affiliates and their officers, directors, employees and volunteers from all claims relating to this website, the content, and any website to which it is linked.
Usage of Content
Unless noted otherwise, the content, such as text, graphics, logos, icons and images is copyrighted by, in use by consent, and property of The Healing Center, may not be copied, altered, stored or otherwise used in whole or part without the express consent of The Healing Center. The user may make one copy of the content of any page of this website for personal and noncommercial use which does not harm the reputation of The Healing Center or Dr. Marilyn Chernoff, and provided the user does not alter the content.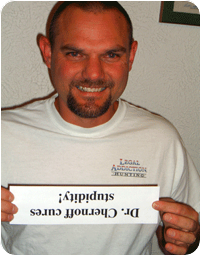 Treating

Sinusitis
Headaches
Backaches
Skin Conditions
Chemical Sensitivities
PMS/Hormones
Chronic Fatigue
Fibromyalgia
Candida & More